American Legion Auxiliary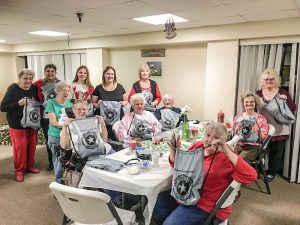 Mission Statement- In the Spirit of service, not self, the mission of the American Legion Auxiliary is to support The American Legion and to honor the sacrifice of those who serve by enhancing the lives of our veterans, military and their families, both at home and abroad.  For God and Country, we advocate for veterans, educate our citizens, mentor youth, and promote patriotism, good citizenship, peace and security.
We give & support:
Salvation Army
Gateway Clipper for 2 veterans
July fourth fireworks
Peanut Butter Festival
Halloween Parade
Snack-with-Santa
Christmas Parade
We currently have 61 members.
President- Cindy Morgan
1st Vice President- Janet Lantz
2nd vice President- Maxine Himes
Secretary- Ruby Hetrick
Treasurer- Bettie Miles
Historian- Shirley Neiswonger
Sergeant-at-Arms – Shirley Ferringer
Chaplain- Betty Merchant
Americanism Essays
Sponsor Keystone Girls State
Give out Poppies in May and November to honor our veterans
Give Christmas and Easter gifts to homeless veterans at Meckling-Shakley
8th Grade Girl award