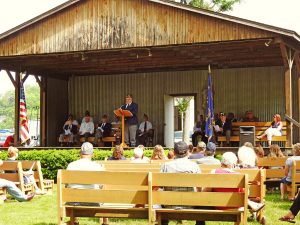 Saturday, April 13–The Post's annual "birthday dinner," where invitations will be extended to each Post member and special guests will be invited to the annual event to be held at the Hawthorn Firehall.  Those receiving the invitations will be asked to notify a designated party and confirm scheduled attendance for the member and his/her one guest.  More details will be coming at a date closer to the dinner.
Saturday,  May 25–The Post will host the community's annual Memorial Day observance, with activities as usual scheduled at Gumtown Park.  Details for the event are currently in the planning stages and will be announced as we approach the annual observance that remembers our military personnel who have paid the supreme sacrifice in defense of our nation.
Friday, June 14–In keeping with Post tradition, the annual flag retirement ceremony, where tattered, faded or torn flags are properly retired, will be held.  Tentatively, the ceremony will be held at Gumtown Park. Post or Auxiliary members are encouraged to contact family and friends to see if  there are American flags that are due for proper retirement.